"If more of us valued food and cheer and song above hoarded gold, it would be a merrier world."
So, as some of you may have noticed, I'm a bit of a Lord of the Rings fanatic. It began when I was about 12 and read The Hobbit for the first time, but it grew into an obsession over the years, until – like the One Ring – it became my own, my Precioussss (yes, I have it badly). And of course, when Peter Jackson's LotR trilogy came out in 2001, any hope of recovery or return to some modicum of normality was lost for good.
22nd September is a very special day for Tolkien fans all over the world as it is the birthday of two very special hobbits – Bilbo and Frodo Baggins. So naturally, today I say a very Happy Birthday to Bilbo and Frodo – Ringbearers and Elf Friends.
On this day people the world over celebrate Middle-Earth and its creator, Professor J.R.R. Tolkien, in many different ways – from simply re-reading the books to throwing a party worthy of Bilbo's Long Expected Party, from sharing the love and fellowship via social media to meeting up with friends to enjoy The Hobbit or The Lord of the Rings in one way or another, whether through role-play or movie and/or book marathons.
And for those you who don't know – in honour of these two great Hobbits – today is also known as Hobbit Day. If you had the money and the means, I would have suggested attending the festivities that are held in the Hobbiton film set in New Zealand on this day. I certainly would have loved to have attended, and hopefully one day, I will get to.
Personally, I will be celebrating the Rinbearers' birthdays with a Lord of the Rings movie marathon, accompanied by a menu fit for a Hobbit table.
Should you decide to follow my example, here are some ideas for creating a worthy Hobbit menu to go with your movie marathon:
Traditional Hobbit Meals
Breakfast
Start the day off right with a hearty breakfast designed to hold hungry Hobbits over until the next meal.
Mini quiche made with cheese, or vegetables
Honey nut cake and marmalade
Hobbit hash (potatoes, leeks, spinach, and cheese)
Omelette made with curry spices, onions, and tomatoes
Second Breakfast
Second breakfast is usually a bit lighter and less savory than its predecessor. Offer up sweet pastries, fruits, or toast with jams and jellies. It's important, however, that your Hobbit food still includes plenty of meat.
Scones and clotted cream
Breakfast pie made with salmon, leeks, eggs, and cream
Bread topped with butter and honey served with a side of fruit
Elevenses
Elevenses is a mid-morning tea time snack designed to hold Hobbits over until lunchtime. These meal ideas are perfect for pairing with tea or coffee.
Elven lembas bread
Lavender and lemon muffins
Strawberry shortcake with cream
Caraway seed cake
Lemon tea cake
Luncheon
After a morning of lighter fare, luncheon should be filled with hearty, warm dishes designed to keep Hobbits' hunger at bay.
Potato and onion soup
Fish and chips
Shepherd's pie
Roast mutton
Scotch eggs
Afternoon Tea
Given a Hobbit's love of social calls and gossip, it's no surprise afternoon tea is a meal meant for socialising with one another. Pair the following sweet treats with tea, coffee, or mead.
Ring cookies
Berry pie
Mixed berry cobbler
Blackberry tarts
Apple pie and cream
Dinner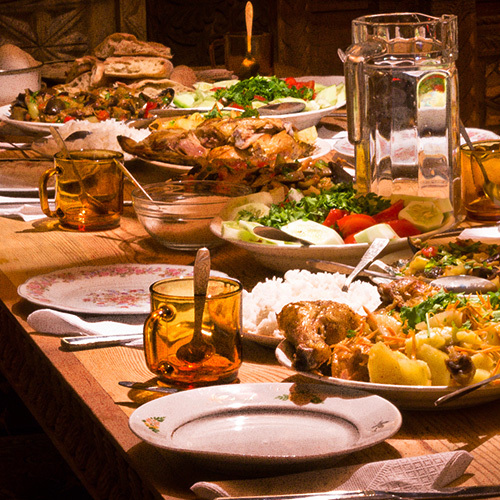 When served in the evening time, dinner is generally the largest meal of the day. Serve plenty of meats and vegetables to create a proper Hobbit dinner.
Cottage pie
Spiced beef and roasted vegetables
Savory porridge
Pepper-crusted steak served with potatoes
Cheddar soup
Supper
This final meal needs to hold hobbits over until the next morning. Similar to dinner, your supper should contain plenty of meats, bread, cheeses, and ale (non-alcoholic, in my case 🙂 ).
Mushroom soup
Salad served with fresh herbs and hard-boiled eggs
Roasted chicken
Rabbit stew
To my fellow Tolkienites – Elen sila lumenn' omentielvo.